From the very beginning of the year - after it was announced that since 2007 Channel Russia (ex-RTR) is returning to it's Eurovision duties - Channel One (ex - ORT) made it clear that it is not very much interested in Eurovision participation and preselection this year as well. But anyway, they still had to select it's representative - so it was decided without any additional doubts that preselection will be run in usual "internal" way - meaning that officially anyone can enter the selection, but clearly with general public entries having absolutely no chance in it. Only established performers, that also can guarantee full financing of Russian participation in the contest, without any additional resources provided by the channel itself - besides strictly paper work with EBU entry submission (and even this pretty ordinary task was not peformed by the Channel One management in a due way).

Main contenders were widely regarded to be Dima Bilan and Jasmin.



Singer Jasmin was the first official entrant in the selection with song called "(Desperate) Foreigner" (written by I.Brylin with lyrics by K.Kavaleryan and I.Antonyan). All sources were agreeing in one thing - the song had the potential to become the best ever Russian entry in Eurovision song contest. But, as we will understand later, the song criteria played absolutely no role in the preselection itself. Jasmin brought her entry to Channel One on the first day of submission period and PR management of the singer has issued the following press-release: "Jasmin prepares 'bomb' for Eurovision. She has recorded new song, which on opinion of her management is ideally fitting the format of Eurovision Song Contest".

Dima Bilan's team also receives unofficial blessing from Channel One and starts preparation for the Eurovision. But as the time is running out, it was decided to select two potential entries from the material which was made for the new English language album of Dima. Speaks co-author of the entry "Never Let You Go" Karen Kavaleryan: "We didn't write any special songs for "Eurovision". Our task was to prepare material for English language album of Dima, which we was working on and already made several tracks. Later two of them were selected by management as entries to Russian national preselection. If we were preparing song specially for Eurovision, we would have selected different concept, different collection of means and methods - both musical and lyrical."

Two English tracks are recorded and they receive titles Lady Flame - which is uptempo tune and Never Let You Go - which at that moment was rock ballad with heavy guitar riffs. Work on arrangements is completed exactly at the end of submission period and both songs are presented to Channel One - which gets the right to select entry on it's preferences.

As obviously the competition is ongoing only between this two very strong entrants, there are other persons who posess Eurovision dream - one of them being singer Varvara, who has Eurovision ambitions and for the last couple of years don't miss any opportunity to try to get to Eurovision, no matter representing Russia or any other country which will require her services. Her ambitions and financial abilities are pretty strong and she uses them to pay for the services of some Russian tabloids and European Eurovision fan sites, who start another PR campaign in her favour. In the end of 2005 she starts the rumour that she has already been invited to represent Switzerland, later list of invitations is extended with Belgium, Cyprus, Netherlands etc - though this invitations never belonged to official broadcaster delegations, but were mostly day dreams of Varvara management or PR actions aimed for the Russian market and fans.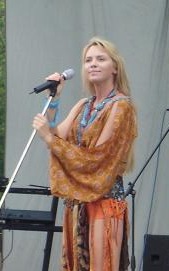 Varvara enters Eurovision selection with song "Otpusti Menya Reka" (music A.Orlov, Russian lyrics by A.A'Kim), for the work under English version Varvara invites one of the foreign authors always eager to enter Eurovision - Belgian Paelinck, and they create lyrics "All you people clap your hands, go wild", only confirming the fact that Varvara management is following all steps of career, image and songs of Eurovision 2004 winner Ruslana. English version of the song called "We'll Be There" despite pathetic press-releases never entered the radio rotations and one of the reasons for that was more than obvious bad English of the performer.

Varvara's team enters Russian preselection battle stage with their usual method - black mailing PR, and as at that time Jasmin was considered to be most obvious candidate (Bilan's team was just silently starting it's work and never publicly declare Eurovision interest) - all false information and paid articles in Russian tabloids are aimed against her. It is declared that Jasmin's husband has purchased for his wife Eurovision place - the rumour which had absolutely no grounds - but which aimed for negative reaction from public and to spoil already not perfect relations between Jasmin team and Channel One. Varvara's team never understand that her candidacy won't even be ever considered by Channel One management as with all effective looks of the singer, expensive dresses and decorations - unfortunately singer is known as being absolutely unable to perform live, which was clearly shown at Eurovision 2005 preselections, and this time, after many failures specificly in the live performance department - Channel One is strong in decision to send to the contest singer with at least good live performance abilities.

Among other candidates was singer Ariana (her song Igrai (Don't Go) written by Matvei Anichkin already started radio rotation), Polina Griffith, and number of smaller scale candidates, including permanent entrants of national competitions Julietta M, Jam, Private Beat and also Zhenya Rasskazova, Nikolay Burlak, Ranetki band, Gerda, Sergey Abalymov, Respublica band, controvercial Bizyulka, Sergey Ermiloff, Namik Aliev and others, more info and samples are available at this page. As we've already noted, highly unfortunately material from the general public was not only not selected, but even not listened to, the sad fact to which Russian Eurovision fans are already getting used - that performers from general public have absolutely no chance to enter national selection process - unlike in many European countries, where new singers with hit songs have almost same abilities to enter contest as their experienced colleagues.

After the end of submission period, which was a bit extended to wait for Bilan's entries, so called "official jury" is called, which included Y.Aksyuta (musical producer of Channel One, head of ESC delegation), I.Bachurin (MTV Russia), A.Polesitskiy (radio Europe Plus), songwriters V.Drobysh and V.Matetskiy and singer Larisa Dolina. The jury is created only with the purpose to make public decision of Channel One boss Konstantin Ernst, which was made few days before that, but jury also needs to create the vision of democratic selection procedure. For this purpose two journalists are invited to join jury, for which play on K.Ernst's script is performed. At the end officially Jasmin is dismissed for the bad English, other candidates are dismissed for different other reasons and in the end only candidacy of Dima Bilan is left, and he is declared as winner. The most interesting part in jury proceedings starts afterwards - jury declare that they have selected SONG, basing the decision on many factors - format of the song for Eurovision, and the quality of the performance of this very entry. Really, expert council have pointed to Dima Bilan's team - sorry, but your songs are not suitable for us, and though only one week is left before heads of delegations meeting - authors, who were members of the council claim that they are ready to write in this time new songh for Dima. (Interestingly, officially Victor Drobysh declares that he won't ever be involved in Eurovision after Natalia Podolskaya's failure, but this time declares that he is eager to write new Eurovision song for Bilan). Of course, creators didn't manage to prepare anything suitable during the first few days, and on the next meeting jury accepts Never Let You Go as the contest entry, but orders a new arrangement. Process of rearrangements and video recordings takes the res of the week. Dima Bilan himself also declared that he is strictly against preparation of the new entry and wants to stick with Never Let You Go: "Never Let U Go" — is rock song, this style is very close to me lately. My life dictates me to perform more of such sort of music. I became stronger and tougher. Two years of work with live musiciants, which started when my first producer Yuriy Aizenshpis was alive, didn't pass without leaving a trace. Second song "Lady Flame" is more light, pop style, very simple without serious vocal story".

At the end Channel One jury members all as one try to convert the danger of being blamed for bad selection from themselves to the song authors:

Ilya Bachurin: "There was outstanding song presented by Jasmin - fitting Eurovision format at it's maximum, 100% schlager, which will shine on this sort of contest. I didn't like the song of Dima, it was middle tempo, not uptempo, and that, on my opinion, is the main problem"
Vladimir Matetskiy: "That would be ideal to prepare another song for Dima Bilan. Unfortunately it is very difficult to prepare a good Eurovision entry for Russian authors"
Alexandr Polesitskiy: "Song, which he had presented, is loosing, on my opinion, to many songs that were in Dima's repertoire"
Maxim Kononenko: "Song is too slow. This is not sort of song for Eurovision"


One of the co-authors of the contest entry Karen Kavaleryan gave his answer to that allegations: "When official person declares only one week before the deadline that he dislikes the song and it needs to be changed - it is really bad. Bad first of all because his opinion is reprinted by every mass-media, including foreigh, and negative aura is created around the song. And secondly, and this is even more unpleasant - any person, who knows a thing or two about the process of creation of songs, understands - that it is impossible during one week to write a new song, prepare arrangement, record and master the recording. So this offcial person knows and understands - that there won't be any new song created. The reason to announce his thoughts is clear - to get rid of responsibility in the case of the probable failure. And in the same speech same official person declares: "... though I think that Dima Bilan can save any song...", which is possibly said for the case of successful performance. All this is administrative equilibrism of the highest class, but in this very case it is impossible to sit at the same time on two chares".

Full quotes from members of jury and interview of Karen Kavaleryan you can read at the middle of this page. Now, knowing the result of the contest, we can say that history put everyone the place where they belong to, and distanced right from wrong.

Head of the Russian delegation at Eurovision Yuriy Aksyuta also made his statement, which now is part of the history of the contest: "Internal selection is the most widely spread form of selection of Eurovision entry. Experts, who knows well format of "Eurovision", technology of hits creation, can examine vocal abilities and potential of the performers are voting in it. Public open selection - it is first of all - emotional understanding. Viewers are usually attracted by popularity of the performer. The best example is Natasha Podolskaya. "Stars factory" was just completed and certainly audience of that show switched to Eurovision preselection, and was voting in a huge numbers. That brought the win to Podolskaya, despite clearly the best entry last year was presented by Dima Bilan, which was also mentioned by our expert council of music professionals. If last year Bilan went to "Eurovision" I think we won't be having such a hot discussions now. I don't know what place he would have gotten in Kiev, but think that we could hope for better result, than we've got. Now, we just didn't want to repeat mistakes of the last year".

We'd like to remind you that last year answering direct questions on whether Channel One is satisfied by selection of televiewers and whether jury would have selected different entry - Yuriy Aksyuta many times made it clear that he is fully satisfied with the selection result, and to be more precise, if jury was selecting - they would also send same song of Natalia Podolskaya, as her song, according to last year statements of Mr. Aksyuta was the best in the national selection. You may check our 2005 page for the exact quotations. It also seems we won't ever understand how Yuriy was making his calculations and came to the conclusion that not public, but internal selection is the mostly wide spread form in Europe... We won't even speak about the fact that no one of the respected members of "expert council" knows anything about "Eurovision" format, as the panel never includes any of the Eurovision specialists of the country, but only composers, managers and performers close to the broadcaster.

On this we'd like to finish story about the national selection proceedings, and would like just to finalize what had happened with other participants of the "show". Team of Jasmin decides to leave the song for the next year (if the song won't be made public before October 1st 2006 it has all rights to enter the national selection process for Eurovision 2007). At the moment future of the song as is the future of the Jasmin as singer is quite unclear, as she is splitting with her management. We hope that this song won't be lost and will appear at the national selection later, either performed by Jasmin or different singer.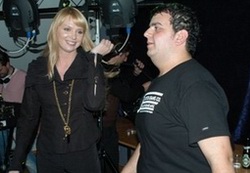 Future steps of Varvara are clearly illustrated by the following fact - after announcement of the results of Russian preselection - in Moldova national preselection also ends in a farce result, where national broadcaster fails to name Eurovision singer after first attempt and orders a restart, announcing that applications for the second round of open selection are widely accepted. At that time all insiders are already aware that Arsenium, ex-O-Zone member, stands as favourite, as his song had received backing from the highest level - but as the submission is declared open - Varvara's team immediately sends their entry to Moldova as well, and in desperate attempt tries to persuade organizers to back her song, promising financial benefits from that. Unfortunately for Russian singer, her entry is not even considered and is returned back with the remark that first Varvara should turn into Moldavian citizenship, before entering their selection. Dismissed singer, absolutely not confused, declares in Russian tabloids: "I have received telephone call from Kishineu and was invited to represent Moldova, but I had to reject that, as I do not want to represent any other country at Eurovision, but Russia".
For the third Eurovision event in a row Varvara spends time at the contest (this time in Athens) spreading out her CDs and promo-materials to the delegations of all European countries... possibly understanding that as next year channel Russia takes over national preselection in Russia and one of the main principles of management of that broadcaster is that all singers should sing live - and do that on the good level, which automatically pushes Varvara out of the list of contenders for the year 2007 from her own country.

And, as if it was not enough, it was lately discovered that potential Varvara's Eurovision entry "Otpusti menya reka" was premierred at the concert at City day of Balashiha on 4th of September 2005, and according to Eurovision rules couldn't represent any country at the contest breaking so called October 1st rule...

Summing up the "national preselection" 2006, we can say that one of the most respected performers of the country, well known on the level to be able to unite ex-USSR votes, and clearly having good live performance abilities - there are so few singers of this caliber in the country - got his Eurovision chance. Main problems arised at preselection are that everything as usual was done in a big hurry, while the persons, responsible for selection, never knowing anything about European selection analogues and about so called format of Eurovision Song Contest. With such a process, it would be ideal to select a singer first, announcing his name somewhere in January, and later running open submission for the potential entries for the singer, with jury selecting around 5 songs and televoting ending the procedure. Unfortunately, as it was clear from the very beginning, interest to Eurovision contest inside Channel One has fallen down to the lowest ever - so everything was done in a mess and at the last minute.