Organizing questions of selection of debut performer for Eurovision contest were given to the productional team of "Programma A" show on Russian Television RTR, which after long studies of ESC rules (which appears very difficult task for the other Russian broadcaster ORT as future will show us) have produced public national final. It was held on 12th of March 1994 in one of the RTR studios, and Vadim Dolgachev was hosting it. 2 entries were disqualified before the contest, but still were included in the TV show - Alena Apina's "Oi Oi Oi" was rotated on radio before the event which was prohibited by the rules, and there are different explanations why Vika Tsyganova's entry "When I will be back in Russia" was disqualified, with most probable reason being the decision of the singer herself.
According to the rules Jury was made of 16 persons - 9 of them being music professionals and 7 representatives of the public.

| | | | | | | | |
| --- | --- | --- | --- | --- | --- | --- | --- |
| # | Performer | Title | Music | Lyrics | Points | Place | ESCKaz |
| 1 | Megapolis | Pushkin | O.Nesterov | O.Nesterov | 0 | 8 | Rather standard track, but concept of the band itself could get some support at the contest. Hair and hat of Oleg looked very strange but effective 8/10 |
| 2 | Youddiph | Vechniy strannik (Eternal wanderer) | L.Zemlinskiy | Pilgrim | 9 | 1 | Not so effective costume as at Eurovision, but still same charming vocal performance 10/10 |
| 3 | Andrei Misin | Rossiyskaya liricheskaya (Russian lyrical) | A.Misin | S.Patrushev | 4 | 3 | Extravaganza festival is continued. Half religious, half patriotic song was perfomed very nicely, but was nowhere close to the Eurovision format 7/10 |
| 4 | Tatiana Martsinkovskaya | Raspyatie (Crusifixion) | S.Streletskiy | A.Ispolnov | 1 | 5 | Another religious song with interesting and very well worked out vocal line 8/10 |
| 5 | Sergei Penkin | Vspomni (Remember) | S.Fedorov | S.Fedorov | 1 | 5 | Performing again in his original dress, one of the best voices on Russian scene had presented not best and difficult to remember entry 7/10 |
| 6 | Nogu Svelo | Sibirskaya lyubov (Siberian love) | M.Pokrovskiy, I. Lapukhin, A.Yakomulskiy | M.Pokrovskiy | 7 | 2 | Nogu Svelo has appeared as pank band, with jumping all over the scene and tearing of guitar strings 7/10 |
| 7 | Kvartal | Prileti ko mne (Fly to me) | A.Pilyavin | A.Pilyavin | 1 | 5 | Kvartal band continued their poor effects to create copy of Bravo band, performed entry was poor 6/10 |
| 8 | Alisa Mon | Va-banck | A.Mon | A.Mon | 0 | 8 | Extravagant dresses and dances of Alisa and her group couldn't save her song 5/10 |
| 9 | Elena Kiriy | Devki pesni raspevayut (Girls are singing) | S.Matvienko | S.Matvienko | 3 | 4 | Very static performance of the singer being in trance with awful pseudo folk song 3/10 |
| dis | Alyona Apina | Oi, oi, oi | A.Ukupnik | S.Osiashvili | | | Well known hit of Alena Apina was living picture of Russian pop-scene of middle 90th. |
| dis | Vika Tsyganova | Kogda ya vernus v Rossiyu (When I'll be back in Russia) | | | | | Another pseudo-patriotic song in White Guard style of Russian shanson. |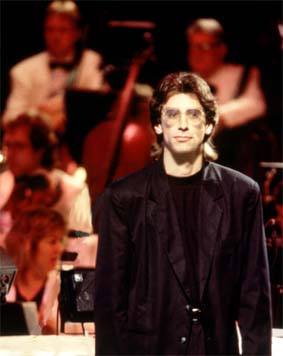 Speaks Lev Zemlinskiy - author of the song:
We were finishing recording of one of the albums of one not so popular singer, and Masha Kats, back vocalist of Nikolay Arutyunov's "Liga Bluza" was also working on it. Suddenly I have received phone call from one of the managers of "Tau - product" and he suggested be to submit entry to the contest which was organized by "Programma A". Before this our country had never participated in the Eurovision Song Contest and onlu host of this show, who regulary visited it as commentator was aware about the conditions, rules etc. From different talks I found out that he was suggesting different stars to go to Dublin, but all of them had refused for some reason. So they had to announce open selection which was very honest as it was not prebought by some company or singer.
In the Soviet times I was working myself in Ostankino and had good chances to watch all contests and festivals, not like our citizen. So I tried to remember Eurovision Song Contest. This is the contest for "family" European music with good orchesta performance as I remembered. I started calculating my chances. Song should be sang in the native language, so only in two - three countries viewers will understand what is the song about... Guitar music, r-n-b are not suitable as guitar equipment is not permitted. So we have to make good song for orchestra, and it should be good orchestra. I was thinking that the best orchestras in Europe are located on islands (the best of them is London one). So I've decided to select song, where all bonuses of orchestra can be used, also my possibilities as arranger and possibilities of performer. With Russian lyrics we have done it pretty quickly - Masha has prepared it in one night.
But we had to won national selection first. We have easily qualified through first stage of preselection and entered open national final one. When I saw all participants I have understood that we are the only one suitable for Dublin. The other choices could be real failure for the country (patriotic Tsyganova, A.Mon as unlucky striptease dancer, patologically crazy "Nogu svelo" - same Soviet music but turned inside out), or would not be understood by public (Misin with his deep national ideas, or "Megapolis" good guys, I like them, but their music lacks a lot. I should mention in the brackets that it is always so shameful when people abroad get to know Russia with such a persons like crazy Max from "Nogu svelo". In this case Alsu was much much better...
So I think we really deserved the win in Russia, on my opinion.
So we opened champagne, started pouring it out... Then suddenly door opens, and all organizers of TV project enter the room. Their mood was pretty funeral. I can not give exact quote but they say something like this: "OK, you have already won. But this is not enough. Now you have to find enough money to take all of us to Dublin". It appeared that they were hoping that someone like Vika Tsyganova or "Nogu svelo" will win. Cossaks promised to pay 50 thousand dollars in case of Vika's qualification, and "Nogu svelo" have very good connection in TV world. In any of this cases there was no problem for big delegation of Russian TV to go abroad to the contest.
First I've got very disappointed, but then I understood that we will go with Masha to Eurovision anyway, and stopped thinking about it. And money were brought by Krylov who found some businessmen



Youddiph about national preselection:
I liked a lot performance of "Nogu svelo" in Russian national final - they were simply magnificient. I was sure in their win for more that 100 percent. I so liked them, so enjoyed their music even before the contest, so I was absolutely sure in there win when they performed their "Siberian love", they should have won. There also was "Kvartal" band. I used to be backing vocalist in it, they were also singing pretty good song. But I had no feelings towards it, my heart kept silent for this song as well as for "Megapolis" song who also are my friends by the way.
Now unfortunately only those who can pay go to the Eurovision. When I was participating I really honestly won national preselection, not paying not single penny to anyone, and all PR was done only in coincidence. Like story of Cindirella. I just was lucky enough that Sergei Krylov had payed for all the campaign. He just came to the press-conference and said: "I like her, I will pay", and he did, that was like a miracle which never happens now.

Maksim Pokrovskiy, "Nogu svelo" :
– In 1994 we were going to participate in Eurovision and recorded song which was fitting main rule - it was less than 5 minutes long. We have presented it on the national selection for Eurovision, here is Shabolovka studios. We tried two times to enter this contest. In a year, or in a two I should say, as we didn't participate in internal selection by other broadcaster, we have entered again with "Moscow romance" song sung from a face of tramp asking for money in the transport. Why we did it? We thought it would be cool. "Syberian love" got second place, and "Moscow romance" was considered to be too humiliating and offensive for Europe.