Channel One again declared internal selection and period of entry submission was extended till March 1st, while the deadline for sending of complete information about the participant to EBU was 20th of March).
Some performers and managers commented on their possible participation:
Evgenii Fridlyand, producer of "Prime-Minister" band: "I had an idea to submit from Russia duet of Boris Moiseev and Nilda Fernandez, but then I finally decided to take a break, not to spend my life at Eurovision. Now main priority for me is to produce a musical for Boris and concerts for PM in Moscow. I'm also busy with new project - MALINA, and I cosider it to be very actual for ESC 2004. Hope Russia won't get relegated. And as I see it is possible to win there!!!"
Evgeniy Havtan, Bravo band: Well, that not depends on us. We consider participation in ESC as another chance in life, though it is very small when preselection is organized by well known circles lead by Channel One's manager Konstantin Ernst".
Sergei Pudovkin, producer of Vitas - "I consider Eurovision as a very political event, and it will bring no good to Vitas, so we're not planning to take part in it".

It became known that applications were sent by Moscow performer Kevin with the song "Wonderful Light" and singer DuSha with "Ya ne boleyu toboy" (which was breaking contest rules and was not eligible for the event as it started radiorotation before October 1st, 2002).
Elena Arkhipova, manager of Channel One on International Relations announces that all submitted entries have same chances and specially notes that "best song" will be selected and no preference to the performer will be given. As we will find out later that were only words.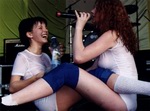 At the same time, even before the submission deadline, without no announcement, and simply turning running preselection to farce, not even listening to any submitted entries, Channel One invites "Tatu" band and it's producer Ivan Shapovalov to represent Russia at the contest. After it a long negotiations with management of the band and their label Universal, which was strictly against participation of the band in the contest, declaring the following: Eurovision is contest for the yound singers, and participation in it can bring nothing to the performers of such level as Tatu are. We would prefer duet to start working on the second album rather than participating in the contest for newcomers, but this is their choice and we will not argue with their decision".
Time is running, already it is middle of the March, but duet still has no contest entry as they have split with all authors after recording of the first album. In such a hurry decision is taken to make Eurovision entry from the sided material of the first album which was considered to be not of the highest quality, and existed with slightly different lyrics.

This is how creation of the song is described by co-author Mars Lasar: Founder of Tatu Ivan Shapovalov and I worked together with the artists to create something a little different. Once the initial idea was set in place, we'd send mp3 files from USA to Russia and back till we had the perfect blend, then the tracks were mixed. Technology was definitley a benifit during this bi-continental process.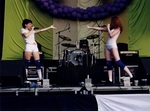 Official announcement of preselection results was made by Igor Burenkov, Manager of Public relations of Channel One: "All submitted entries were very different, but we were chosing from the shortlist of 500 candidates and decided to choose Tatu band. Yes, they have certain popularity in the world but this only adds to their chances. But contest is still contest".
Jury was announced to include General Manager of Channel One Konstantin Ernst, General Producer and first Vice Manager Aleksandr Faifman, Manager of Music department Yuri Aksiuta, and also composers Vladimir Matetskiy and Dmitry Malikov.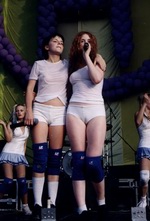 But we can judge that all announcements of Channel One were fake from the comments of Tatu manager Ivan Shapovalov:
"Is it true that we go to the Eurovision? Possibly, yes, but I don't have official information about it. We will participate in the contest with new composition which now exists in Russian language, but specially for Eurovision it will be performed in English"

- So you have presented to selection Jury song in Russian which will be then translated in English?
"I don't know about any Jury. I was asked to give the song and I did".

It is certain that Tatu band and their song didn't pass through any kind of preselection, and was simply invited to participate in the contest despite announced submissions. Let's return to producer of the band.
"We have received suggestion from Channel One (ORT) in February, when we were working on the new album. We replied with the non format song, with modern aggressive sound, that is not similar to the songs usually performed by the Eurovision winners. This is chance for Russia to restore adequate attitude towards this contest and for Eurovision to widen their audience. For Tatu it is important to do there what we want to. Where others can not let themselves to do the same thing. And live performance for the whole Europe is pretty interesting anyway, not depending on the status of the event."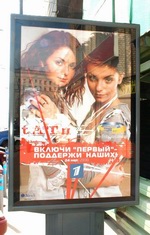 One more quote from press-conference of the band:
- How did you get to Eurovision?
I. Shapovalov: We were invited.
- But there was some sort of contest, some song selection, do you know about it?
I. Shapovalov: Yes, there was some sort of contest, we were told about it today, but as we were explained contest comission didn't find any suitable entries and that's why...
- Nothing suitable at all?
I. Shapovalov: You should refer this question to that comission.

It is pretty strange how contest comission couldn't find any suitable entries when submission deadline has not even approached when Tatu were "invited".
The other reason was given by Yulia Volkova:
"If our country is asking us and is promoting us, so why we should decline?".
"We are promoting Tatu, as it is now the most popular band in America and Europe. It would be foolish if Russia missed opportunity to send the best and most known name from our scene", continued Igor Burenkov.
Poor Russian scene if it had nothing better than scandalous duet of fake-lesbian orientation, commercial project without any music and vocal talents...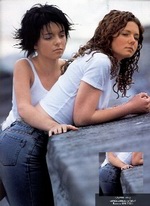 Some time later when all fans already knew about "results" of preselection Channel One holds press-conference for mass-media. It was run by chairman of Musical Department Yuri Aksiuta who patheticly announced that contest was honest, and they spend a lot of time searching through 500 contenders, and Tatu's song was the most impressive of all.
"Contest, I should say preselection was run according to our usual criteria, same ones we used in 2001 and 2002. There were quite a number of entries received from different Russian cities, republics of ex-USSR. Very active were contenders from Baltic states, we have received a lot of entries from Riga, Latvia. We have received about 500 entries. We spent a lot of time to be honest to all of the contenders and decided that none of this entries is suitable for the contest as they are very weak."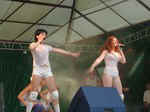 Ivan Shapovalov, denying Aksiuta's words said that they are not interested neither in the contest at all, not at the win there, as it will not bring them money and popularity. He mentioned that they had agreed to go to the contest only being patriots of the homeland, to "cure Russia from every year humiliation".
As it was announced at the conference Tatu will perform new song "Ne ver', ne boisa, ne prosi" and they are sure that this criminal motto should be used by every Russian citizen.
This is criminal law - Don't believe. Don't be afraid. Don't beg. - this are words that all nation should tell to itself now. Everyone should believe only to himself and not be afraid of anything.

We will complete this part of the story with another quote from Mr. Shapovalov: We are participating in this contest absolutely for free. We are participating because of practical considerations. We are not interested in the win, as we are not interested in the contest itself.