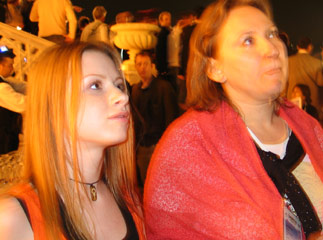 First Channel One spread information that there exists some short list of four candidates one of which will be selected for Eurovision 2004. This list included Verka Serdyuchka (Andrei Danilko), Via Gra, Smash!! and Anastasia Stotskaya.
A bit after ORT changes it's opinion and as usual announces submission period for internal selection. As in previous year, this submission was purely nominal, as it was run for half of the month only and all submitted entries, as in 2003, were thrown out to the thrush.

Yuriy Aksuta, Channel One music director:
- What is your first criteria in selection of performer for Eurovision? Whom do you prefer personally?
- First of all - this is song and individuality of the performer. And task is not to just participate, but to win.
- Why Channel One is not covering preparation for the contest?
- I'm not sure that the preparation itself is interesting to the big audience.
- When Russia represented by Channel One will conduct open National Final for ESC as majority of European countries do, including debutants- Belarus?
- Pity, that you don't rely on professionalism of our selection comission, we will see, may be next year we will have such a preselection. And we will find out whether it would be more productive than work of jury.
Some submitted entries became available to the public:
Smash!! band has submitted 2 song to the National Contest, written by British authors "This coud lead to something" and "Would you cry to me", which were later included into the last album of the duo. (Despite known opinion (published also at Smash!! site) song "Obsession"was not submitted to the contest and which was recorded later). With the show of the band Tatu as source false information that Smash are already selected as representatives of the Russia, but Channel One quickly denied this rumour.
Moscow performer Kevin has announced entering song "You may", some Mary X entered with "Collision", and Vladivostok band "Gorod B" also announced entry submission (they sent live recording of the old song as sample of their material).
Young singer Andrei Berestenko, laureat of "Delfiyskie Igry" festival has submitted song "September 11th" written by Vitaliy Okorokov and devoted to New York tragedy. This is just the list of performers who had announced that they had submitted their entries, and were expecting that they will be at least considered.

Channel One later declared 700 entries received. Among "applicants" appeared Anastasia Stotskay (not with "I ty skazhesh" song, as some sources report, as present song was ineligible as it was breaking official release rule), Dima Bilan (promoted by Yuri Aizenshpis), "Reflex" band, Abraham Rousso, some song by composer Vitaliy Okorokov, AfroRussian Jam, and some Zazhigalka. No single of this performers had confirmed their participation and named the song they were entering with.
Selection comission was made of: General director of Channel One Konstantin Ernst, First Vice Director - General Producer of Channel One Aleksandr Faifman, head of General Director service Maria Danielan, Director of Music Department Yuri Aksiuta, composer Vladimir Matetskiy, singer Valeria (Alla Perfilova).

Another interesting fact, participant of the preselection 2005 Vladimir Gustov (Be Good) told us: "Our song "Take Me Back To Rio" was composed and recorded in 1999 at my studio favourite specially for the Eurovision contest, after another shameful failure of Russia there. We didn't issue that, remembering the rules. For many years in a row we've been submitting it to the Channel One and only last year (2004) they managed to listen to it and judge properly. It was declared the best song of submitted and we have started negotiations about our participation in Turkey. Unfortunately, in the end managing interests of Channel One prevaled, and they've sent another performer close to the channel, and experienced another failure"
Song of the band appeared at the open national preselection 2005.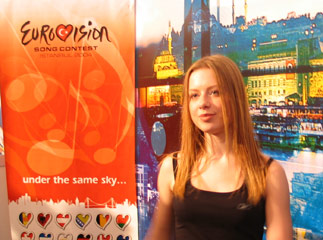 As Mr. Aksiuta reported, after "full comprehensive analisis" expert comittee decided to choose song written by Max Fadeev, simply because it is "abolutely fitting format of the contest and by it's potential can fight for the highest places"
Igor Burenkov - director of Public Relations of Channel One: "In national contest selecting the performer to represent Russia at Eurovision 2004 from 10 stars of Russian scene, who had submitted their entries, we decided to stop on Yulia Savicheva. Yulia is very talented performer. Despite of her age, she has already good experience of professional activities, including concert one. And it is very important for Eurovision, as participants have to perform live for the huge audience "

As Channel One managers reported - song is written in English language, lyrics are still worked out and there is no title yet. But as Yuri Aksiuta explaned they were having doubts last year whether Tatu is fitting format of the contest, this year this song and performer are "absolutely striking at the bull's eye". He denied information that all this qualities strangely have appeared at protegee of Channel One's song as pure coincidence.
"The song is European hit! What has presented Max Fadeev is impressive and effective. Task of composer is to make song give impression from very first listen and we are sure this will happen with this song "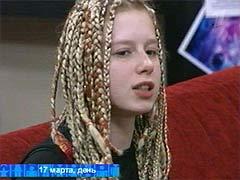 Lately truth though was discovered as at the moment of preselection "entry" by Yulia Savicheva only existed as instrumental with voclal line performed in la-la-la method. More than that - arrangement of the instrumental was simply copied from the well know hit by "Texas" band. It is interesting which talents should Jury members have to predict judging by the song in such a stage whether it is european hit, whether it is fitting format and where it strikes? Strike though was done by producer of Yulia Max Fadeev and it was rather impressive, as Philip Kirkorov (producer of Stotskaya) and Mikhail Topalov (producer of Smash) left with nothing.