2001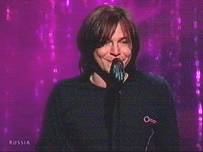 Contest entry:
| | |
| --- | --- |
| Song | "Lady Alpine Blue" (Russian variant "Obeschaniya") |
| Performer | "Mumiy - Troll" |
| Composer | Iliya Lagutenko |
| Lyricist | Ilya Lagutenko |
| Place | 12 place (37 points), performed on 6th position |
| Votes for Russia | Iceland (5), Israel (3), Lithuania (10), Latvia (8), Estonia (4) , Malta (2), Greece (5). |
| Votes of Russian Jury | Read by Larisa Verbitskaya: The Netherlands 1 , Sweden 2, UK 3, Slovenia 4, Greece 5, Estonia 6, Malta 7, Germany 8, Lithuania 10, France 12 |
ESCKaz Rank:
| | |
| --- | --- |
| Song rank | Song itself is rather poor and couldn't be remembered from the first listen 6/10 |
| Preview video rank | Director: Andrei Kuznetsov. One of the best previews submitted by Russia. Elegant Ilya and band perform the song with studio shooting and some girl on the background. 8/10 |
| Live performance rank | Performance was very professional and was set pretty good. Unfortynately quite specific vocal of Ilya and not very good drawing place and the song couldn't be remembered by the TV viewers. Additionally a lot of people thought of the band as a copy of Latvian Brainstorm performed in 2000. 8/10 |
National preselection:

ORT once again hold internal preselection using well known principles. Result of it was officially announced in the beginning of April, though participation of the band was decided already in January, but management decided to make announcement at the time of the big solo concert of the band in Moscow.

At the press-conference ORT representatives have mentioned more than 2000 submitted entries, including some songs by famous performers like Vitas, "Gosti iz budushego", "Plazma", "Chugunnie skorohody" and other less known performers from all regions of Russia:
Anton Nikolaev - member of direction of public relations ORT:
We are making internal selection with a help of a Jury. Who are the members of that Jury? Chief executives of ORT and specialists in show-business. Names? I won't give any. Why? No answer. What is the difference? There was real contest. "Mumiy Troll" was selected from more than 2000 candidates. Among them "Gosti iz budushego", "Plazma", "Chugunniy skorohod" and other bands from Bashkortostan, Tatarstan, Komi Republic and other regions of Russia. They were sending their entries on everything possible: CDs, tapes and even bobbins, which we of course couldn't listen.

But not single song of this 2000 was made public and bands "Gosti iz budushego" and "Plasma" even confirmed that they were not sending any entries for the contest.

- We have never written any submision for their contest - tells member of "Plazma" Maksim Postelniy - Yes, there were some talks, but all of them strictly nonofficial. I knew that our material has reach ORT and there was slight possibility we can go. But no other information was given to us - who were candidates, when we got out of selection. I think that everyone knows how ORT is running their selection but nobody talks loudly about it. And of course their representatives who knows the real business will never say anything. Nobody even cared to reply to us that we will not be going anywhere. I only understood it when I heard from my unofficial sources that "Mumiy Troll" will be going to the Eurovision. I think we could turn things differently if we attached some money. But we don't have money. Especially such a sum required for Eurovision. This is very big amount only such big company as ORT or some big sponsors may be having. Possibly some sponsor decided that "Mumiy Troll"'s participation is better than participation of "Plasma". Let it be. We are not highly disappointed. We don't really think that Eurovision might help for European market promotion. That could be good promo action from Russian audience, but same money, that we or anyone else should pay for Eurovision, can be used here for same or even better scale promotion.

Unofficial sources say that main sponsor of Mumiy Troll for the Eurovision was CD-Land company, distributor of official CD releases in Russia, created by Mumiy Troll producer Leonid Burlakov.

At the live chat with the readers of Komsomolskaya Pravda, lead singer Ilya Lagutenko, as other ORT performers usually do, has claimed they go to Eurovision to bring win to Russia.
Commentary of the performer:

Ilya Lagutenko "I'm pretty happy with this tour. We were never hoping for the win, simply because of that just appearing for 3 minutes we couldn't change Eurovision contest itself and to get influence on viewers and comissions of EBU, who are doing this event for 40 years.
We are pretty satisfied with the performance itself, and even more with the time we had spent in Copenghagen. With some impression of political and format influences, there was atmosphere of real holiday, among participants and citizen of the city and guests from whole Europe. We had time to go sightseeing, and had big fun (every day we were jamming till the morning). And we had performed for the multimillion audience and reaction had followed immediately.
Industry representatives were very surprised by high level and originality of our band (I was pretty touched by words that we are bringing unique music for the new Europe as a whole...). Cooperation suggestions followed immediately. And now we need to take rest from all this impressions. In the summer Mumiy Troll will start recording demos suggested by western record companies for possible debut European release next year. Also in the end of the year we will be going on promo-tour to Scandinavia and Germany.
Speaking about the contest itself - I think that the most of material at Eurovision 2001 was very quality product. The other question is whether it was interesting or not. And about our 12th place... There is no money prize for any placing so we had lost nothing...
After Eurovision we were resting for two days... There was too much champaigne after the show. Eurovision has not affected our plans for the future at all. We know in advance, where we will go next, and that was just some nice addition to our development. To be part of this show is only a some sort of experience for us. May be I was telling different things in May, but now Eurovision is only pleasant memory.
Biography of the performer:

Official date of birth of the band is 16th of October 1983 when Ilya Lagutenko organized band originally called "Mumi Troll", which existed up to 1987. In the beginning of 90th Ilya is working in UK where in 1996 he records the new album of reborn band "Morskaya" and shoots some videos. After recording band returns to Russia and goes on touring through the country. Soon followed albums "Ikra", "Shamora" (which included best songs from first period of the band), "Tochno Rtut Aloe", another tour in Russia, concerts in Japan. In February 2001 song for Eurovision Song Contest in Russian and English versions is recorded at CAN Studio in Germany.
After Eurovision band continued issuing successful records and touring. Albums "Meamories", "Sliyaniya i Poglosheniya" were produced, soundtrack for the movie "Pohititeli Knig", tours in Scandinavia, Germany. Band has performed in a number of festivals and got some awards for best performances.
Lyrics of English and Russian versions:
"Lady Alpine Blue"

To love newcomers fashion
Oh, so special
You may want to believe me
But hey, your Alpine eyes of blue
Here's my Siberian hymn for you
We better stay or rather die
La, la, la...
Rather die
La, la, la...

No promises, no kiss goodbye to you
Just keep on smiling, my lady Alpine blue

Your slipping serpentine night
Would cuddle us, keep us tender
And smother warning signs
My old mistakes should send her
Eternity for us to try
The dawn will tell us if we fly
La, la, la...
If we fly
La, la, la...

No promises, no kiss goodbye for you
Just keep on smiling, my lady Alpine blue

No promises
No promises
No promises
No promises

No promises, no kiss goodbye for you
Just keep on smiling, my lady Alpine blue

"Obeschaniya"

Vlyublyat'sya v mode snova
Srazu skoro
I mne by ne poverit'
No ey
Baltiyskie glaza
Vot vam primorskih serenad
My ostaemsya navsegda
la la la
Navsegda

Bez obeschaniy
No my ne proschaemsya
Prosto tseluemsya
I ulybaemsya
Noch' poluserpantinom
Menya obnyav rastaet
Takimi kak ya znayu
Oshibki erunda
Vsegda drugim vsem do poludnya
A nam vsego lish' do utra
la la la
Do utra


Official releases and versions of contest entry: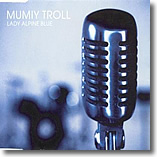 1. "Lady Alpine Blue" - short version - 03.01 - official CD of Eurovision 2001
2. "Lady Alpine Blue" - long version - 04.01 - not released officially, included in promo CD for mass-media - official wma
3. "Lady Alpine Blue" (Dj Ram Fly Mix) - 06.27 - not released officially, included in promo CD for mass-media - official wma
4. "Lady Alpine Blue" accoustic version 2002 - 03.59 - not released
5. "Obeschaniya" - short version - 02.53 - not released
6. "Obeschaniya" - long version - 04.02 - not released
7. "Obeschaniya" - accoustic version 2002 - album "Meamories" - official wma

Russian Eurovision mp3 collector's guide
Russian Eurovision CD collector's guide
used: materials of official site of the band, Express-newspaper and own information
All recordings exept official are presented with a lowered bitrate for demonstrational purposes only.
Back to the front page of the project "Russia at Eurovision"
Back to the front page of ESCKaz.com/