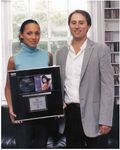 Supporting group of Alsou has arrived to Stockholm on 10th of May. It included 60 persons (25 of them members of official delegation). Among them were here musiciants, host of "Utro" program at ORT Andrei Malahov, Aleksandr Tsekalo (as stage designer), Lev Leshenko (as family friend), producer of the singer Valeriy Belotserkovskiy, employees of his productional company "Megapol", different relatives, Indian friend of Alsou from London and some journalists.
Alsou was not living in prestigeous "Grand Hotel" where all VIP persons resided, but in rather simple "Quality Globen Hotel". For many hours artists were rehearsing in the hall of "Globen Arena", improving movements and stage plastics. After rehearsals producer Belotserkovskiy was really mad and he shouted at all members of the stage team demanding huge improvement.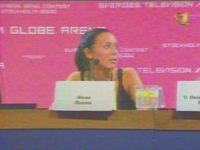 At the press-conference press-releases and promo CDs for mass-media have disappeared almost immediately. At the press-conference head of Russian branch of Universal company David Jang was present. They have already signed contract for issue of 7 albums of the singer.
Next day Russian embassy in Sweden invited delegation for official ceremony. Only there all members of it got a chance to get acquainted with each other. All were sitting around piano, on which played head of Alsou's band Vadim Baikov. Lev Leshenko was main singer in the choir of Russian delegation members. He sang same impressive as he usually do on his concerts. Mostly folk songs were performed. The closing number was solo song of Vadim Baikov. Valery Belotserkovskiy was as usually severe: "From this very moment", he declared to journalists, "I prohibit any interviews with Alsou".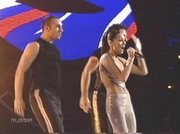 Alsou comments:
'Of course we were madly wishing to win. But really we were not expecting such a good result. Honestly we were though to finish at 4-5th place. There were a lot of talented singers at the contest. I liked a lot Estonian singer. It helped me a lot, that it was first contest in my life and I didn't feel that huge responcibility, and was not worried a lot before entering the stage. And I was rehearsing for some weeks, that of course helped a lot too...
The dress in which I performed at the contest was prepared by London designer Maria Grachvogel, who had experience working with Spice Girls. At the beginning that was combined dress in brown colors, but soon we decided to change it and selected pink colours.This colour looked very good for the TV appearance, lighted by projectors, it was iridiscent.
As Alsou thinks this pink colour helped her to achive such an result as her name is translated from Tatar as "pink water".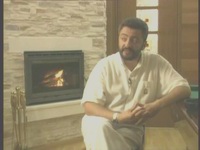 Producer of the singer V.Belotserkovskiy speaks: 'Of course success didn't come suddenly, we had to work very hard for it. We covered half of the Europe with promo-campaign, during which Alsou met a lot of journalists, took part in different radio and TV shows. Interest for her was always very high, which was surprising and inspiring at the same time. We were very good accepted at Romania and Malta. And I think that her win should be considered as a new step in a career of the singer and not as some kind of final result.
We honestly took second place - National Jury worked only in 5 countries of 24, and in all others interactive telephone voting was used. So it is nonsence to speak about "money of Alsou's father", we could buy all housekeepers. One Baltic country, where Jury was used, gave us 0 points - this was about politics. In this country we gave big concert, with some thousands of viewers, but as you see - it didn't help.
I'm still dissatisfied how we done this song. I'm still certain that this is not Alsou type of song. I specially made Alsou to work hard before the contest. I made her to go on big tour to get used to this song. But still she failed all first verse, performed it out of the tone, because she was nervous.

Press-conference of Alsou, devoted to her participation in "Eurovision-2000" was held in conference hall of AIF-News agency on 26th of May. Beside singer herself her producer Belotserkovsky, stage performance designer Aleksandr Tsekalo, manager of musical broadcast of ORT Oleg Volnov were present. First special film about preparation to the contest was shown including backscene reports, performance of Alsou, and comments of Russian "Eurovision-2000" team. First question to be asked was quite expected by producer of the singer: "Why at international song contest we presented song written by foreign authors? Couldn't we find decent composers and lyricists in our own country?". Valery Belotserkovsky explained that when they was due to send to ORT tape with the song, they couldn't locate any other song besides "Solo" which met requirements of the contest, and they submitted this song, even without any hopes for success. Alsou herself also denied rumours that she didn't want to come to the capital and meet with journalist (her other conference one week before was cancelled). She explained that she is studying in one of London colleges, and at the present time is preparing for the exams - director of the colleges already let her go for 10 days to prepare for the contest, and now he persuaded her to stay and study what she has missed. Alsou told she was happy to finish second, which was quite unexpected for here. As she said, when performing on the final night, she was less nerveous than during the first rehearsal. It was told that single "Solo" will soon be issued and English language album will be finished in autumn.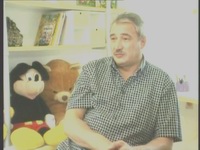 It couldn't be simple, the question about role of Alsou's father was asked again. Infuriated Belotserkovsky claimed that after such a success at such a prestigeous event where singer got the win only with her own hands, he was hoping never to hear this question ever again. Alsou herself seemed a bit shy, talked very little, sometimes asked to repeat the question, but it usually was her producer who gave the answers.