1998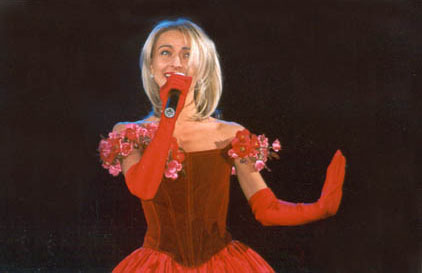 Contest entry:
| | |
| --- | --- |
| Song | ??? |
| Performer | Tatyana Ovsienko ??? |
National selection:
In 1998 ORT was once again settled to run internal preselections, but soon organizers had realised that because of bad average result in previous years Russia will not participant in the contest of this year.
There was information that ORT was going to name Tatyana Ovsienko as Russian participant 1998, even the song was mentioned "Solntse moyo" (My Sun), which seems to be nothing but false rumour as it is known that this song was officially released in the middle of 1997 on solo CD of Tatyana "Za Rozovym morem".
As a result Russia had to miss contest of 1998, and ORT not pleased that there will be no contestant from Russia this year decided not to broadcast the event. According to the different information ORT was expecting that RTR will broadcast contest this year, and because of that decided not to show it.
Biography of the performer:
Tatyana Ovsienko was born on 22nd of October 1966 in Kiev. She was studying in the music school at piano department and performed in children choir "Solnyshko". After graduating from the technical college (in the middle of 80th) Tatyana got place of administrator in Kiev hotel "Bratislava" where she got aquainted with her future husband Vladimir Dubovitskiy, leader of Electroclub band.
At the same hotel Tatyana got invitation to enter "Mirage" band as costume designer, and suddenly when place of soloist became vacant after Natalia Vetlitskaya left band, was invited to sing in it. Though even till now all vocals of Mirage are done by Margarita Suhankina, who never performed at the stage, and different singers were just miming at the live performances.
In 1991 Dubovitskiy suggests Tatyana to leave Mirage and start solo career. He produces her first solo album "Krasivaya devchonka".
Issue of each new album was adding to the growing popularity of Tatyana. In 1993 she releases second album "Kapitan", in 1994 new one "Ne Sudi" and in 1995 she enters professional level with hiring team of composers and arrangers and issues in 1997 new album "Za Rozovym Morem", which in one week climbs to the highest charts position and remains leader for almost the whole year.
After issue of 5th album Tatyana starts Russian tour and in every city her concerts were sold out. Tatyana can be called one of the most popular singers of Russian in 1997-1998.
But since the end of 1998 she changes priorities in the life and she turns to her family, they with Vladimir adopted a boy in 1999, and since then her appearances were very limited.
In 2001 Tatyana returns with the album of old songs, and finally in 2004 new album titled "Ya ne skazhu proshay" (I won't say goodbye) is issued. At the end of the year singer seriously hurts her backbone and had to cancel her tour and stay in hospital.
used: materials of official site, and also own information
All recordings exept official are presented with a lowered bitrate for demonstrational purposes only.

Back to the front page of the project "Russia at Eurovision"
Back to the front page of ESCKaz.com/