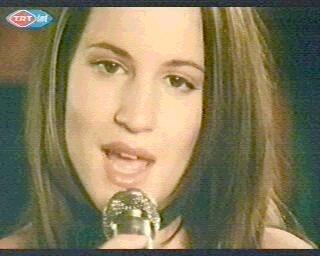 images source- BBC Song for Europe, TRT, EurovisionContestGroup and
jhannon@brutele.be
Press release was published by BBC:

Pop Idol finalist Jessica Garlick singing 'Come Back' has been voted by Song For Europe viewers as their choice for this year's entry in the Eurovision Song Contest 2002. The winning song was written and composed by Birmingham Airline pilot Martin Baylay and received 67,798 votes out of a total of just over 100,000 votes cast.

20 year old Jessica, who's from Wales, has been taken to the nation's hearts over the past few months winning her way into Pop Idol's final 10. She had previously won the Welsh Final of Star For A Night' and featured on Michael Barrymore's 'My Kind Of Music' when she was 16!

Such has been her popularity that she was immediately invited to perform one of the final 8 songs in the BBC's Song For Europe contest. 'Come Back' has been produced by the hit-making team of Bill Padley and Jeremy Godfrey, who produced one of last year's biggest hits, Atomic Kitten's 'Whole Again'. They also produce other chart toppers Samantha Mumba and Blue, among others.

The project was put together by Executive Producer, Rick Blaskey, who also represents singing phenomenon Russell Watson. His past successes include England's football anthem '3 Lions' and work with Whitney Houston, Cliff Richard, Barry Manilow and Tina Turner among others. Rick was recommended to have Jessica record 'Come Back' by Pop Idol voice coaches, Carrie and David Grant. Rick and Carrie had successfully worked together on the 1983 UK Song For Europe winner, 'I'm Never Giving Up' by Sweet Dreams, which included the young Carrie doing her first professional job! Rick meanwhile was Executive Producer for last year's Song For Europe winner, 'No Dream Impossible', performed by Lindsay Dracass.

Says a thrilled Jessica, 'My idol is Madonna and my ambition has always been to make records and perform on TV. I've been so lucky to have been able to fulfil some TV ambitions through Pop Idol and Star For A Night. Representing the UK in Eurovision and having another big hit record with 'Come Back' is another ambition I hope I can achieve.'
---
The contestants are :
Jessica Garlick- qualified for the last 10 of talent show 'Pop Idol'out of 10,000

Level Best- a boy band who got in when Zee was disqualified)

Surf 'N' Turf -a London Evening Standard journalist who entered for a laugh - Jonathan Maitland is one of the group

Tricia Penrose -from top-rated drama 'Heartbeat',one of the most watched shows in the U.K.
Show presented by Claire Sweeney (former soap opera actress,now stage actress) and Christopher Price (host of cable entertainment show 'Liquid News').
thanks to Joe Gibney from eurovision-general mailing list for info
---
More than 550 songs were received by BBC this year. Best eight songs were broadcasted on BBC radio 2 morning show since 28 Jan till 2 Feb. Four of them were chosen to compete at the final.
On 6th Feb BBC made a special statement on disqualification of Zee, who was originally chosen in top four. It was discovered that song Never In A Million Years was released in Hungary in June 2001, what stands against ESC rule.
So songs highligted in red will participate in final.
| | | | |
| --- | --- | --- | --- |
| Songs | Performer(s) | Votes | Plc |
| Come back | Jessica Garlick | 67798 | 1st |
| D J Romeo | Tricia Penrose | 28621 | 2nd |
| Every step of the way | Level Best | 8927 | 3rd |
| Fade away | Pulse | | |
| I give in | Surf N' Turf | | 4th |
| Lovestruck | Honey Trap | | |
| Never in a million years | Zee | | |
| When you're around | Paula O'Neil | | |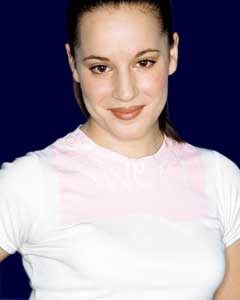 Пресс-релиз, опубликованный BBC :

"Финалистка шоу "Поп Идол" Джессика Гарлик с песней "Вернись" была отобрана телезрителями шоу "Песня для Европы" как участница конкурса Евровидение 2002. Песня-победитель написана пилотом Бирменгемских авиалиний Мартином Бэйли и получила 67798 голосов из общего числа, составившего чуть более 100 тысяч.

20-летняя Джессика, родом из Уэльса, завоевала сердца зрителей, когда недавно попала в последнюю десятку шоу "Поп Идол". Она ранее побеждала на Уэльском фестивале "Звезда на ночь" и участвовала в шоу Майкла Бэрримора "Моя музыка" в возрасте 16 лет.

Ее популярность достигла таких вершин, что она была немедленно приглашена исполнить одну из песен в финале конкурса "Песня для Европы". Продюсерами песни "Вернись" стали Билл Пэдли и Джереми Годфри, которые продюсировали один из самых больших хитов этого года "Whole Again" группы Atomic Kitten. Они также продюсировали других лидеров чартов Саманту Мумбу и Блю.

Проект возглавил исполнительный продюсер Рик Бласки, который также представляет феноменального Рассела Уотсона. Его предыдущие работы включают в себя английский футбольный гимн "Три льва", работы с Уитни Хьюстон, Клиффом Ричардом, Барри Манилоу и Тиной Тёрнер. Рика порекомендовали тренеры по вокалу шоу "Поп Идол" Кэрри и Дэвид Грант. Рик и Кэрри уже работали вместе в 1983 году над песней "Я никогда не сдамся" группы Свит Дримс. Рик также был исполнительным продюсером прошлогодней победительницы Линдсэй Дрэйкасс с песней "Нет невозможного".

Взволнованная Джессика сказала: "Мой кумир -Мадонна, и я всегда хотела записываться и выступать на телевидении. Я уже удовлетворила некоторые амбиции во время выступления в прошлогодних шоу "Поп идол" и "Звезда на ночь". Представлять Великобританию на Евровидении и записать хит "Вернись" - это мое следующее стремление.
---
Участники-
Джессика Гарлик - попала в 10-ку лидеров шоу "Поп Идол"

Левел Бест- группа, попавшая в финал из-за дисквалификации Zee

Сёрф-Н-Тёрф - один из членов группы - журналист, решивший проверить всё на себе

Трисия Пенроуз - актриса в одном из лучших шоу в Великобритании - Heartbeat
Ведущие- Клэр Свини и Кристофер Прайс
Благодарим за информацию Джо Гибни из рассылки eurovision-general
---
Восемь песен, отобранных из более чем 550 заявок, участвовали в полуфинале, проведенном BBC радио 2. Четыре из них, победивших в голосовании, примут участие в финале.
6-го февраля BBC выпустило спец. заявление о дисквалификации песни Никогда За Миллионы Лет, т.к. обнаружилось, что эта песня уже была выпущена на сборнике, изданном в Венгрии в июне 2001 года. Место Zee в финале заняла группа Level Best, занимавшая до этого 5-е место.