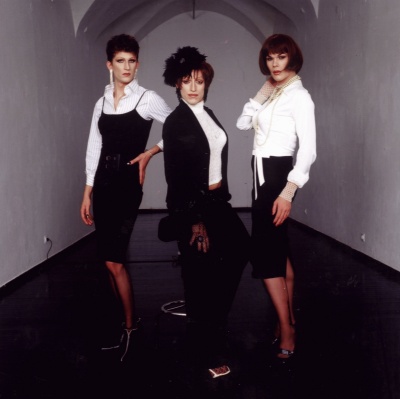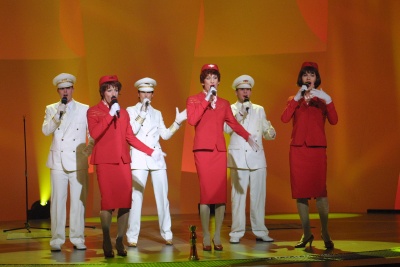 Photo by EMA2002 and Sestre.net
---
Three transvestites (lead singer Miss Marlena (real name Tomaz Mihelic), Daphne (Sreco Blas), and Emperatrizz (Damjan Levec) ) have won the Slovenian EMA contest and will take part in ESC with "Samo ljubezen" ("Only Love").

You can listen to all songs from national final here

Три трансвестита (Дафна, Марлена и Императрис) одержали победу, поднявшись с 3-го места. На конкурсе они исполнят песню "Только Любовь"

Вы можете послушать все песни с финала здесь
Very controversial result in Slovenia. Contest was made of 2 heats. 10 best songs in 1 heat qualified to the 2nd.(5 by televoting and 5 by jury) There was 3 kinds of votes - televote and 2 juries-RTVSLO and Expert. Karmen who finished first with great margin in televote was beaten by Sestre according to jury decision.
You can read more info on controversy in this CNN article
There had to be made final decision whether to go with Sestre, nominate new winner or reheld final with splitting decision 50/50 jury/televoting.
The proposal to revote was rejected and RTVSLO announced that they were 100% behind the group and their song. Sestre would go to Tallinn.
---
Очень сомнительный результат в Словении. Финал был проведен в 2 этапа. 10 лучших песен из первого квалифицировались во второй.(5 по результату телеголосования и 5 от жюри) Там было проведено 3 голосования - теле и 2 жюри - от RTVSLO и экспертов. Кармен, которая с огромным отрывом победила в телеголосовании, была побеждена группой Сестры, согласно результатам жюри.
Были выдвинуты следующие предложения- оставить результат в силе, объявить нового победителя, либо провести повторный финал с 50% разделением между жюри и телеголосованием.
Окончательный вердикт гласит - группа Сестры- едет на Евровидение.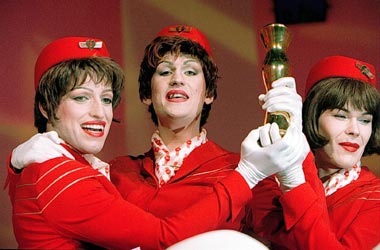 Marlena (Tomaz Mihelic)

22 year-old student of work therapy from Radlje ob Dravi, a small town in the North of Slovenia. She made her first drag act more than two years ago at a European work therapy congress in Ljubljana. His professors helped him get his dress. Miss Marlena appeared in a legendary green gown, the work of Alan Hranitelj; At the Golden Rooster Award ceremony, the same gown was worn by Helena Blagne (a Slovene gay diva).

Marlena is taking music lessons with Diego Barios Ross. Some years ago she worked with Katice (female folk singers) in the song Jungfraua - written by Barbara Pesut, who also wrote this year's winning song for Sestre - where Marlenna yodeled.

Marlena also appeared in Stafeta Mladosti, a national TV variety show, she appeared on stage with Magnifico for his concert in Krizanke hall, gave a performance at Preseren Square for the New Year's Eve of 2000. Apart from that, she also appeared in numerous entertainment spots across Slovenia. She was also offered to appear at last year's EMA as back vocals but she declined due to study obligations in Belgium.


Daphne (Sreco Blas)

Agronomy student and dancer in the Ljubljana Dance Theater. "Daphne blagaiana" (lat.) is an indigenous plant which grows in Slovenia. Sreco has been successfully cultivating it at home for many years.

But most important, Daphne is a muse, a handmaiden on Mount Olympus. In order to save her from Apollo's stalking, Zeus turned her into a bay leaf bush. Daphne is a dancer, but most of all she likes modern dance technicques and vogueing. Daphne doubles as DJ Lucky when she's not wearing ladies' clothes.


Emperatrizz (Damjan Levec)

Student of a vocational college for hair styling, Emperatrizz comes from Litija, a small town about an hour's drive away from Ljubljana. Her attribute is mastery of make-up, which she does for a living. Emperatrizz chose her name to reflect her personality, as she herself points out. Emperatrizz got her name from a Spanish soap opera.

Source: Predstavitev - Mitja Blazic, (translated by Tadej Reissner), site Sestre
Марлена- 22-летняя студентка из Радлье об Драви, небольшого города на севере Словении. Она впервые выступила два года назад на Европейском конгрессе по терапии в Любляне. Мисс Марлена появилась в легендарном зеленом платье работы Алана Хранителья. Профессора помогли облачиться ей в этот наряд. На церемонии вручения премии Золотой Петух это же платье надевала Хелена Бланье (Словенская гей-дива).

Марлена брала музыкальные уроки у Диего Бариосса Росса. Несколько лет назад она работала с Катице (фольклорной певицей) над песней Юнгфрауа- написанной Барбарой Песут, которая также является автором песни - участницы Евровидения, где Марлена пела традиционным пением тирольцев- йодлем.

Марлена также появлялась на Стафета Младости, варьете-шоу на национальном телевидении, выступала вместе с Магнифико во время его концерта в Кризанке, а также в новогоднем шоу 2000 на площади Пресерен. Кроме того, она также принимала участие в разнообразных развлекательных проектах по всей Эстонии. Ей также предлагали принять участие в прошлогоднем отборе как бэк-вокалистке, но она предпочла обучение в Бельгии.

Дафна- студентка сельскохозяйственного факультета и танцовщица в Люблянском театре танца. "Дафна благаиана" (лат.) -местное словенское растение, которое Сречо выращивал несколько лет у себя дома.

Но, что более важно- Дафна- греческая муза. служанка на Олимпе. Спасая ее от преследований Аполлона, Зевс превратил ее в кустарник. Дафна- танцор, но больше всего она любит технику современного танца и моду. Когда Дафна не носит женскую одежду, то называет себя ди-джей Счастливчик.

Императрица- студентка профессионального колледжа парикмахеров, родилась в маленьком городе Литья, в часе езды от Любляны. Ее атрибут- мастерство грима. Она выбрала имя Императрица, так как считает, что оно хорошо отражает ее личность.

источник информации сайт группы
A heart as open as the sky

A smile and sparkle in my eye

And the word – I bet you know it too

Life offers many ways to choose

You take the wrong one and you lose

Doesn't matter, just listen to your heart

My love's the only thing that I can give you

Love's the only hope for everyone

Look into my eyes, there's no need for cares and lies

I know you feel the same, why should we hide

A secret whish is not a sin

Find your love and you will win

You know me better than you think

Although you're trying not to see

When you watch me, it's yourself you see

You've been straying from my sight

Seeking what you thought was right

Follow your heart – together we'll fly high

My love's the only thing that I can give you (I can give you only love)

Love's the only hope for everyone

Look into my eyes, (look into my eyes, you shall realise)

There's no need for cares and lies

I know you feel the same, why should we hide
Srce veliko kakor svet,
nasmeh in iskrica v ocheh
in beseda poznash jo tudi ti.
V zhivljenju mnogo je poti,
ne ishchi sreche kjer je ni,
le poslushaj, kar srce ti govori.


Lahko ti podarim samo ljubezen,
eno in edino upanje,
poglej me v ochi,
in lahko si brez skrbi,
vem da isto chutish tudi ti.

Kar zhelish si to ni greh,
to je ljubezen v ocheh.

Poznash me bolje kot se zdi,
cheprav zatiskash si ochi,
ko me gledash vidish to kar si.
Dolgo chasa si iskal,
kar si mislil da je prav
a na koncu le eno bosh izbral.

Lahko ti podarim samo ljubezen...