Final

Performer
Song
Jury
Pts
TV
Tot
Plc
EK rating
Paula Seling
Let's go take it straight
11
3
3/10
Nicoleta Matei
The only one
7
9
7/10
Aurelian Temisan
Goodbye, hello, goodbye
withdrawn
10/10
2
Valahia
Friends are friends
11
3
10/10
1
Razvan Crivaci & Liviu Sorescu
Once upon a time
9
6
10/10
3
D'la Vegas
Oxigen
5
10
8/10
6
Costi Ionita
Dominus (The God)
disqualified
-
Aurelian Temisan
Let's have a holiday
20
2
9/10
4
Alexandra Ungureanu
Make this love come true
11
3
6/10
Genius
My life
9
6
8/10
7
Nicola
Don't break my heart
24
1
6/10
Centrul Civic
Come with us
9
6
9/10
5

1st semifinal

Performer
Song
Jury
Pts
TV
Tot
Plc
EK rating
Paula Seling
Let's go take it straight
57
8
10
18
2
Nicoleta Matei
The only one
57
10
6
16
3
Aurelian Temisan
Goodbye, hello, goodbye
62
12
7
19
1
Supermarket
Un om intre oameni (One man among many people)
6
0
4
4
10
Desperado
Fata de la tara (Girl from the country)
49
7
0
7
7
Valahia
Friends are friends
38
4
12
16
3
Razvan Crivaci & Liviu Sorescu
Once upon a time
44
5
3
8
6
Marius Moga
Make this love come true
11
1
2
3
11
Sfinx Experience
A fost o vreme cand (There was a time when)
44
6
0
6
9
Selena
Anytime
1
0
1
1
12
Krypton
Lumea noastra (Our world)
12
2
5
7
7
D'la Vegas
Oxigen
25
3
8
11
5
2nd semifinal

Performer
Song
Jury
Pts
TV
Tot
Plc
EK rating
Bogdan Bradu
Albastru aprins (True blue)
38
5
2
7
9
Oana Sarbu
Doar tu stii (Only you know)
11
0
1
1
10
Costi Ionita
Dominus (The God)
26
3
10
13
4
Aurelian Temisan
Let's have a holiday
67
10
6
16
2
Latin Expres
Mereu aproape (Always near me)
16
1
0
1
10
Hara
Mai frumoasa (More beautiful)
19
2
7
9
7
Open
Tell me
2
0
0
0
12
Alexandra Ungureanu
Make this love come true
27
4
8
12
5
Malina Olinescu
Tacerea doare (The silence hurts)
40
6
3
9
8
Genius
My life
40
7
4
11
6
Nicola
Don't break my heart
79
12
12
24
1
Centrul Civic
Come with us
41
8
5
13
3
EK tip: Nicole, Paula Seling
EK support: Valahia, Aurelian Temisanu
Romanian preselection will be made of 2 rounds. 24 competing songs will be announced on Jan, 23. Then this songs will be split in 2 semis, taking place on Feb, 15 and Feb, 22. Top 6 from each semi go to the final, decision will be made by both jury and televoting. Final is scheduled on March, 1.
Румынский отбор пройдет в 2 этапа. 24 участвующие песни будут объявлены 23-го января. Они будут разделены на 2 полуфинала, назначенных на 15 и 22 февраля. Лучшие 6 песен из каждого полуфинала проходят в финал, назначенный на 1-е марта. Будет проведено как телеголосование, так и голосование жюри.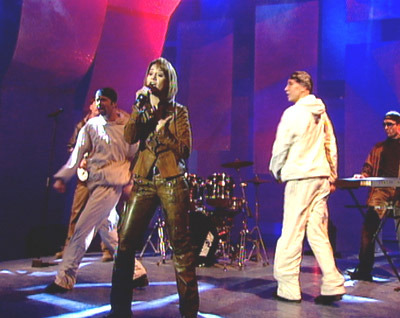 Honestly speaking I don't think Romania made best choice. But I'm just not a fan of such type of music. Song is already quite popular among fans, and as Romania is one of my favourite music countries I wish it to do well. Bucharest 2004? Why not?
Честно говоря, я не думаю, что Румыния сделала лучший выбор. Но я просто не любитель такого типа музыки. Песня Николы уже стала хитом среди фанатов, и так как Румыния - одна из моих самых любимых в музыкальном отношении стран, я желаю ей удачи. Бухарест 2004? Почему бы и нет?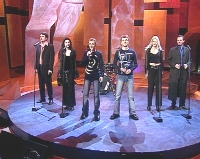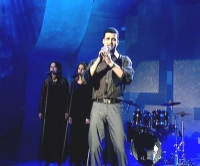 pictures from TVR.ro