Participant
Song
Tele
Pts
Tele
Place

EK rating

Linda Kvam
You got a hold on me
9.38
25
0
5
5/10
Erik Jacobsen
So you say
11.41
5
0
10
9/10
2
Ase Karin Hjelen
Han kom som ein vind (He came like a wind)
5.77
0
0
12
7/10
Daddy Cool
Don't stop
8.33
25
0
5
5/10
Birgitte Einarsen
Good Evening Europe
9.10
35
25978
3rd
8/10
7
Monopole
Wonderful Girl
3.85
18
0
7
8/10
4
Jostein Hasselgard
I`m not afraid to move on
8.85
54
78460
1st
10/10
1
Soda
Fool In Love
7.56
13
0
9
8/10
6
Bettan, Lotta & Kikki
Din hend i min hend (Put another hand in your hand)
11.92
44
25962
4th
6/10
Don
Perfect Tragedy
6.49
4
0
11
8/10
5
Ingvild Pedersen
Anyway you want it
10.77
16
0
8
5/10
Alfie
One
6.67
51
50875
2nd
8/10
3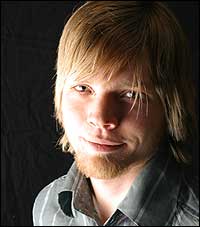 Picture from NRK.no

Newcomer Jostein Hasselgard wins Norwegian final with great ballad "I'm not afraid to move on". 4 songs were televoted in 2nd stage of the final
Новичок норвежской сцены Джастин Хассельгард победил в финале с романтичной балладой "Я не боюсь сделать следующий шаг". 4 песни вышли во второй этап, где победитель был определен голосованием.
Jostein comes from the small town of Fredrikstad just outside Oslo where he early started to show musical talent. He started to play the piano at the age of six and developed a genuine interest in music. He trained in most musical genres, and has in recent years performed as a singer at various concerts in the southeastern part of Norway.

Last year Jostein took a year off from his studies at the prestigious Royal Norwegian Academy of Music in Oslo to focus on his career as an artist besides working full-time as a kindergarten teacher.

information - ESC press center, www.eurovision.tv
Джеймс родом из небольшого городка Фредрикстад недалеко от Осло. Он очень рано стал проявлять признаки музыкального таланта. Он начал играть на пианино в возрасте 6 лет и всем демонстрировал свой интерес к музыке. В последние годы он выступал на различных концертах в юго-восточной части Европы.

В прошлом году Йостин взял академический отпуск от занятий в престижной Королевской Норвежской Музыкальной Академии в Осло для того, чтобы помимо постоянной работы воспитателя в детсаду, сфокусироваться на музыкальной карьере.
Русский перевод - здесь
One moment at a time
Someone finds the secret waiting behind
Knowing there's an end to a glory
End to a story so good, so divine

Heart, listen to your beating
Never gonna stop unless there's a doubt
Never speak to someone that knows you
More than yourself and the ghost that you'll hide

Cos I'm in love with a beautiful girl
She's the one from the magical world
And I hold her now when the rain starts to fall
I'm not afraid to move on

Lay down with someone strange
Dare to be the same as always in time
Slowly seek the end and its glory
Worry to see if it's gone deep inside
Cos I'm in love with a beautiful girl
She's the one from the magical world
And I hold her now when the rain starts to fall
I'm not afraid
I'm not afraid to move on

I'm alone when the ghost starts to haunt
I'm alone but I know

I'm in love with a beautiful girl
She's the one from the magical world
And I hold her now when the rain starts to fall
I'm not afraid
I'm not afraid to move on